Need inspiration? Take a look at some of our recent work..
Find out more
Timber
All timber used in the production of our garden buildings is, at a minimum, tanalised (pressure treated). This ensures a greater life span for our timber compared to non-tanalised timber.
We are one of the only companies in the country that use an air dry tanalising process. Our second factory site is dedicated to this process and allows all timber to return to the same moisture content as it was prior to treatment, ensuring that you don't experience excessive shrinkage, twisting or splitting.
All timber is all high quality, slow grown, with a tight grain and is less susceptible to dead knots.
Our company ethos of developing strong links with trusted suppliers has enabled us to work with leading Swedish mills and UK timber companies over the past 39 years to ensure our quality demands and requirements are always met. Our Scandinavian timber is all FSC certified.
Tanalised Timber Process
The tanalising process involves placing the timber within the treatment cylinder and creating an initial vacuum within the timber cells
The cylinder is then flooded under a vacuum with the preservative treatment
Hydraulic pressure is then applied forcing the preservative deep into the timber cells
The treatment solution is pumped back into the cylinder and a vacuum extracts any excess treatment solution from the timber
Low pressure inside the timber draws in surface solution when vented to the atmosphere and treated timber is left for a specified period for fixation of preservative to occur
Olympian then air dry all timber prior to internal storage and eventual use, ensuring we only use dry timber within our buildings. The use of damp/wet tanalised timber within garden buildings has a number of long term quality issues, including excessive shrinkage/gapped boards, twisting and splitting.
Timber Profiles
Framework
All builds have closely spaced substantial framework (3" x 2" in summerhouses and workshops) which creates an extremely strong and long-lasting building.
Cladding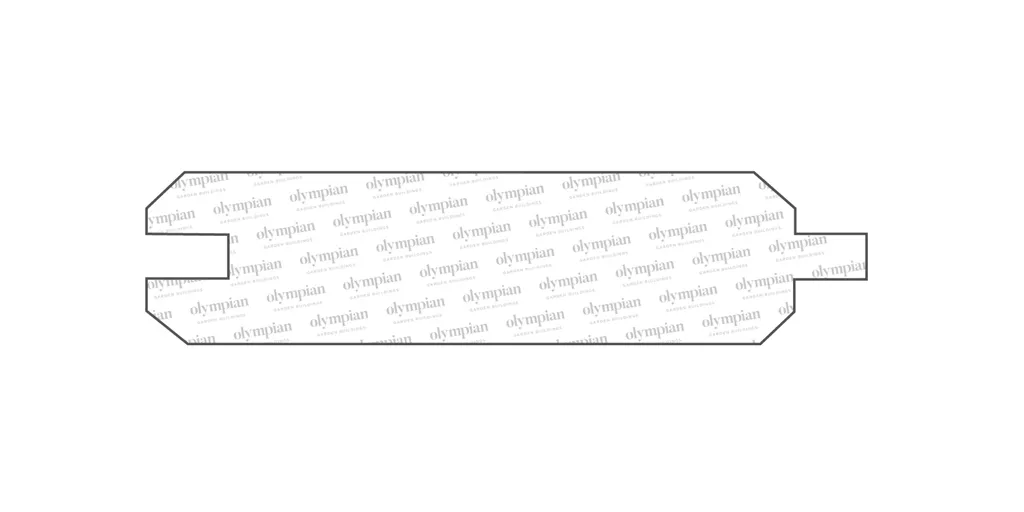 Our cladding styles and thickness are unrivalled allowing you to create a truly bespoke garden building.
32mm Thermowood
1st Grade Western Red Cedar
A stunning cladding used within our Outdoor Rooms, cedar cladding not only looks stunning, it lasts for several decades. Vertical clad boards also give a contemporary appearance. Left naturally, cedar tuns an attractive silver/grey, however, when used with recommended treatments, the natural colours are enhanced and maintained for longer.
Roofing
All buildings come as standard with polyester backed, high performance roofing felt. Options and upgrades include the following:
38kg Felt
A thicker and more hard wearing option to our standard polyester based felt.
Isola Felt Shingles
A market leading alternative to roofing felt – attractive, long lasting and maintenance free, Isola felt shingles are even used as a roof covering on houses in Norway.
Onduline
Long lasting and perfect for workshops and other buildings from our range, we only use Onduline, and not inferior options on the market. Onduline roofing sheets are still fixed to T&G roofs, ensuring far more support then when installed only on roof rafters.
Cedar Shingles
A stunning and long lasting option – Cedar shingles complement any of our range of buildings, and can transform the look. Individually sized shingles, overlapped to each other create a roof that not only looks great, it will last for 35 + years. Cedar shingles are installed on T&G roofs, with the addition of roofing membrane and tile batons.
Firestone Rubber
(Contemporary Outdoor Rooms only)
Market leading Firestone roofs are a standard feature within our Outdoor Room range – single piece EDPM sheets are glued and fixed in position. An expected lifespan of up to 50 years ensures a maintenance free roof for many years.
Internal Membrane
A standard feature of our insulated buildings, we offer an internal lining membrane as an option across our workshop and summerhouse range. Sandwiched between the building framework and exterior cladding and roof boards it has a number of benefits.
Insulation
Our insulated buildings only use Kingspan (or equivalent) high performance PIR insulation. This has far higher insulation values compared to polystyrene or Rockwool equivalents. The Kingspan (or equivalent) insulation is placed within the internal cavity wall prior to it being boarded out.
Contemporary Outdoor Rooms
120mm Kingspan (or equivalent) to roof
90mm Kingspan (or equivalent) to walls
65mm Kingspan (or equivalent) to floor
Insulated Garden Buildings
60mm Kingspsan (or equivalent) to walls and roof
40mm Kingspan (or equivalent) to roof